Free Shipping
Lifetime Guarantee
Built in the USA
Tool-Free Filter Changes
When it's time to change your filters, just screw off the old and screw in the new. It's that simple. No need to turn off the water with our auto-shut one-way valve heads built into the system.
2,000 Gallon Filter Life
The extended filter life can provide clean and safe water for an average of 12 months before needing to be replaced.
R.O. Quality Water Without the Hassle
Our 3-stage filtration system with Affinity Filtration Technology removes 99.7% of fluoride. And we don't stop there—our system removes up to 99.9% of 232+ contaminants while keeping in the beneficial nutrients naturally found in water.
R.O Quality Water without the need for a plumber
See Why It's So Good
Unlike typical filter technologies, our breakthrough Affinity Filtration Technology uses 7+ proprietary filtration materials to create multiple stages of filtration that can remove an average of 99.7% of 232+ contaminants. This means no need for a plumber, simple easy-twist filter replacement, contaminant removal levels beyond reverse osmosis and no permanent installation. It's a no-brainer!
Stage 1:
Water first passes through a woven, stainless steel mesh screen, which keeps larger particles from entering the filter.
Stage 2:
Next, water continues through a loose granulated coconut carbon filtration layer, which removes chlorine, bad tastes, and odors.
Stage 3:
Water then flows through the filter's composite shell, which is made of 7+ proprietary filtration materials. This dense layer slows down the flow of water and allows for the filter to have more time in contact with the water. The combination of the proprietary breakthrough technology and additional contact time allows for superior removal percentages on all contaminant types.
Customer Reviews
Write a Review
Ask a Question
Filter Reviews:
pitcher
water
filter
company
filters
products
money
water filters
taste
water bottles
02/18/2020
Anonymous
United States
I recommend this product
Great experience in undersink water filter changing.
These were so easy to change. I didn't even need to turn off the water because the unit self-seals when you unscrew the old filters. I have a suggestion: please include instructions with the replacement filters. I had to go to your youtube channel and find the video which pointed out (1) where the filter numbers were so I could put them in the correct order and (2) that I didn't need to turn off the water.
02/18/2020
Clearly Filtered
Thanks so much for your helpful feedback, Alice. We are working on instructions to include in the Under the Sink replacement filters. I'm so glad you were able to find out how easy it is to change the filters and find that video on our channel. It is a very simple process!
01/29/2020
Anonymous
United States
I recommend this product
Best Water filter out there!
This filter was extremely easy to install, with most water filters the water pressure reduces at least 50-60%. Clearly filtered one only drops it about 15%. Wish they made a whole house one with a pressure regulator. The fluoride removal is what I was searching for as a neurotoxin does not belong in the drinking water. Thank you Clearly Filter! Keep up the good work!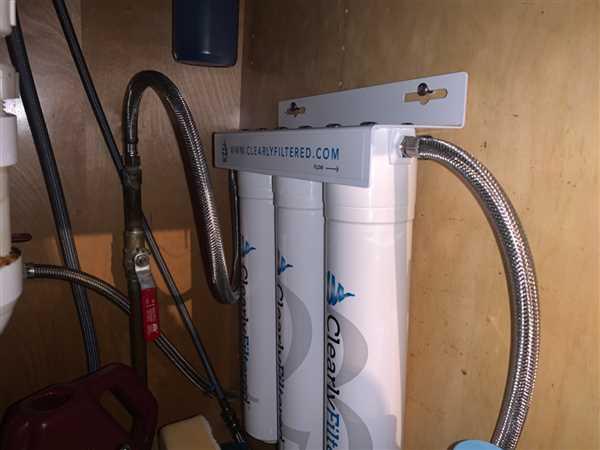 01/20/2020
Anonymous
United States
I recommend this product
Great filter
When I started using filtered water I was using Berkey which I loved besides having to fill it up. Our new clearly filtered under the sink filter fixes that problem. I am super picky about water and how it tastes but I am very pleased with the taste of the water that comes from the filter.
01/15/2020
Daniel D.
United States
I recommend this product
Under the sink filter
The three stage filter system works very well. There is a noticeable difference in the taste as compared to unfiltered tap water. I'm just getting ready to install the filters for the third year. The only drawback is that the flow is diminished but, you get used to it. Dan
01/14/2020
Janis H.
United States
I recommend this product
Installed quickly and Good tasting water
What an improvement and increased level of satisfaction since I upgraded from using the system of filling from the tap into the plastic container with filter. We installed quickly under our veggie sink so the decrease in water flow is not noticeable or significant. It is so much easier to use!
Questions We Get Often
How often should I change my filters?
The Under-the-Sink (UTS) unit is built for large quantities of water and will last for up to 2,000 gallons. That milestone is reached at different times according to the number of people using it. Our guidelines are as follows:

Individuals: 15 months
Couples: 12 months
Families: 9 months

All three filters must be changed at the same time. All municipal water supplies are different, so the frequency at which filters need to be changed is always approximate. We recommend making a note of your installation date as a reminder of when to replace the filters or you can sign up for our filter subscription: you'll never forget to switch your filters and you'll save 10% on each filter replacement!
Which contaminants do the UTS filters remove? (e.g., Fluoride, Lead, Chlorine)
Our filtration technology removes over 230 contaminants. We use an independent, EPA-certified lab to rigorously test our filters to NSF standards. Here are just a few of the more notorious contaminants this filter removes:
Fluoride: removed at a rate of 99.5%. It is difficult to remove once it's added into the tap water and typical carbon-block style filters don't have fluoride removal capabilities. For that reason we specially formulated our technology so fluoride removal is standard with every filter.
Glyphosate: The active ingredient in Roundup® weed killer. Our filters remove 99.9% of this highly controversial chemical.
PFOA/PFAS/PFOS: The chemicals that make pans and apparel "non-stick" but are extremely toxic when consumed. Removed at a rate of 99.9%.
Lead: Even though it's been widely banned due to its highly poisonous nature, lead pipes remain in use across all 50 states. Lead is harmful to human health even at low exposure levels and accumulates in the body over time. Removed at a rate of 99.9%.
Chlorine: While chlorine is effective at reducing the spread of infectious waterborne diseases, it reacts with naturally-occurring materials in water to form dangerous chemical byproducts that threaten your health. Removed at a rate of 98.6%.
We are all about transparency so we post our full test results on our
Test Results Page
. It shows the name of the particular contaminant, the concentration before filtration, the concentration after filtration, and the percentage removed.
What material are the Under-the-Sink filters made of?
The Under-the-Sink (UTS) unit is made with a proprietary blend specifically formulated for Clearly Filtered. These filters are made from a multi-blend of catalysts that remove the contaminants commonly found in municipal tap water giving you and your family convenient, clean, and safe drinking water.