Water Pitcher + Filter 6-Pack Combo
The Most Powerful Water Pitcher on the Market
Traditionally, water pitchers have not been serious filtration devices. The Clearly Filtered® Water Pitcher with Affinity® Filtration Technology changes everything, removing an average of 99.7% of 232+ harmful and dangerous tap water contaminants. That's more than the 3 leading brand name pitchers combined.
1 Filter included with pitcher + 6 Additional Replacement Filters

Only pitcher independently tested to all NSF standards 42, 53, 244, 401 & 473

Removes Fluoride, Lead, BPA, Glyphosate, PFOAs, Hormones & over 220 of the most harmful tap water impurities

Retains the natural minerals & nutrients found in the water

100% BPA Free medical-grade Tritan materials
Average individual filter life: 100 gallons (replace every 4 months on average)
Capacity: 80oz or 10 cups
Free Shipping USA
Lifetime Guarantee
Built in the USA
30 Day Worry Free Trial
BPA/BPS Free
Our pitcher is made of 100% BPA free, medical-grade Tritan® materials. This ensures it doesn't leach chemicals or emit any odors or bad tastes into your filtered water.
80-Ounce (10 cups) Capacity
The slim-design pitcher was designed to hold 80 ounces of water, more than what an average person is supposed to drink in one day for optimal hydration.
Oversized, Easy-Grip Handle
When designing the pitcher, we paid special attention to the handle to make sure all hands could get a solid, comfortable grip and pour with ease.
Built-In Water Dam
A water-dam inside the top reservoir keeps unfiltered water from spilling out while you pour filtered water from the pitcher below.
The Most Effective Pitcher Filter on the Market
Our filter removes more contaminants than the 3 leading brand name water pitchers combined.
Affinity Filtration Technology
Proprietary Affinity Filtration Technology removes fluoride, lead, microplastics, PFAS, glyphosate, and a total of 232+ of the most harmful and dangerous tap water contaminants. No other water pitcher filter on the market removes more. 'Nuff said.
Rigorously Tested to All NSF Standards
Clearly Filtered is the only pitcher filter independently tested to meet or exceed all NSF standards (42, 53, 244, 401, and 473). We also test at levels up to 3 times the legal limit for each contaminant, so you can have peace of mind knowing your water is clean and safe, no matter the conditions.
Published Performance Data
At Clearly Filtered, we believe in radical transparency, so we freely publish the results of our independent laboratory testing for your review. We think you'll find it pretty refreshing. View Now
100-Gallon Filter Life
With a 100 gallon filter life, the Clearly Filtered pitcher filter can provide clean and safe drinking water for an average of 4 months before needing to be replaced. That's about 2 months longer than the leading brand name pitcher filter.
OUR BREAKTHROUGH TECHNOLOGY ISN'T JUST UNIQUE, IT'S UNPARALLELED
What Makes Clearly Filtered Different
Unlike typical filter technologies, our Affinity Filtration Technology uses 7+ proprietary filtration materials to create multiple stages of filtration that can remove an average of 99.7% of 232+ contaminants.
Stage 1: Woven Mesh Screen
Water first passes through a woven, stainless steel mesh screen, which keeps larger particles from entering the filter.
Stage 2: Granulated Coconut Carbon
Next, water continues through a loose granulated coconut carbon filtration layer, which removes chlorine, bad tastes, and odors.
Stage 3: Composite Shell
Water then flows through the filter's composite shell, which is made of 7+ proprietary filtration materials. This dense layer slows down the flow of water and allows for the filter to have more time in contact with the water. The combination of the proprietary technology and additional contact time allows for superior removal percentages on all contaminant types.
Check The Stats
How Clearly Filtered Compares
Clearly Filtered
10 Cups
USA
100 Gallons
98.2%
99.9%
99.5%
99.9%
Standard Carbon Filter
10 Cups
China
40 Gallons
X
X
X
X
ZeroWater
8 Cups
Mexico
20 Gallons
X
X
95.9%
X
Clearly Filtered
Chromium-6, Pharmeticals, Hormones, Trihalomethanes, Herbicides
99.9%
Brita
Chromium-6, Pharmeticals, Hormones, Trihalomethanes, Herbicides
No Claim
Soma
Chromium-6, Pharmeticals, Hormones, Trihalomethanes, Herbicides
No Claim
PUR
Chromium-6, Pharmeticals, Hormones, Trihalomethanes, Herbicides
No Claim
*Information for this chart was compiled from manufacturer websites and brochures. February 2017.
The Best Water Pitcher on the Market!
"I've never had water that tastes this good! I'm completely satisfied with my purchase and would recommend it to anyone looking for a water pitcher."
Christian F.
Best tasting water yet
"I've tried many water filters. None compare to this one. I really like knowing I'm not drinking Fluoride and Chlorine. I like that the filter last for up to four months. It's well worth it on every level. I've already been recommending it my friends."
Matthew F.
Customer Reviews
Write a Review
Ask a Question
Filter Reviews:
water
pitcher
taste
difference
customer service
filters
fluoride
brita
design
water filter
09/23/2019
Deborah O.
United States
The best water I've ever had!!
I have to say that I'm so pleased with my new water pitcher, it came quickly and I was able to set it up easily with the directions provided. I had one issue with the top part not working properly and I called the customer service department and they quickly sent out a new reservoir and it worked perfectly! The water is so good and trust me I have had Fuji, Core, and many others and this tops them all! I am so pleased to have found a filter that takes out so many impurity's because I have cancer and I don't want all of that nasty stuff going into my body. I would recommend this pitcher to everyone because it is so easy to work and it's made quite durable. It functions better than I expected and it holds a ton of water. I will be a long time customer for sure!
10/30/2020
Christine T.
United States
Great tasting water!
I love the taste of the water and the feeling that I am drinking safe water. Here in Michigan one takes for granted that there is lots of water only to find out how truly polluted our streams and rivers have become over the last 100 years. Thank you for creating a great product that goes beyond on all the others on the market making my water tasty and healthy!
10/29/2020
Alex B.
Australia
Seems to filter well
I have no complaints, it seems to be working great. If the filtration rates claimed by the company are correct (I have no reason to think they aren't) then this is a great product and I recommend it.
10/28/2020
Kira R.
United States
Great tasting water!
Overall really like this product! I like that is made in the USA, the taste of the water and the design. The only issue I've experienced is the top tends to fall when I pour water... it doesn't stay put. Not sure if it is a design flaw or my pitcher. Regardless I'm happy overall with the product and how clean the water gets filtered. In the future they should consider a glass carafe and maybe a program where you return your filter for recycling.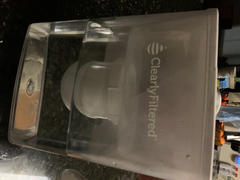 10/28/2020
Angela V.
United States
Taste the difference!
I've been using Brita for years but after the algae bloom season this year and being fed up with tasting chlorine in my filtered water, I made the switch! I did a blind test of the brita vs clearly filtered water to my partner and he was blown away by the difference! He couldn't believe how "purified" the clearly filtered water tasted without having to go through an RO system. It is quite expensive, but sooo worth it!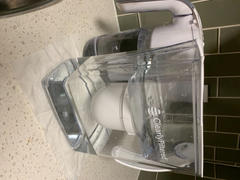 Questions We Get Often
Which contaminants does the pitcher filter remove? (e.g., Fluoride, Lead, Chlorine)
Our filtration technology removes over 230 contaminants. We use an independent, EPA-certified lab to rigorously test our filters to NSF standards. Here are just a few of the more notorious contaminants this filter removes:
Fluoride: removed at a rate of up to 98.2%. It is difficult to remove once it's added into the tap water and typical carbon-block style filters don't have fluoride removal capabilities. For that reason we specially formulated our technology so fluoride removal is standard with every filter.
Glyphosate: The active ingredient in Roundup® weed killer. Our filters remove 99.9% of this highly controversial chemical.
PFOA/PFAS/PFOS: The chemicals that make pans and apparel "non-stick" but are extremely toxic when consumed. Removed at a rate of 99.9%.
Lead: Even though it's been widely banned due to its highly poisonous nature, lead pipes remain in use across all 50 states. Lead is harmful to human health even at low exposure levels and accumulates in the body over time. Removed at a rate of 99.5%.
Chlorine: While chlorine is effective at reducing the spread of infectious waterborne diseases, it reacts with naturally-occurring materials in water to form dangerous chemical byproducts that threaten your health. Removed at a rate of 99.9%.
We are all about transparency so we post our test results on our
Test Results Page
. It shows the name of the particular contaminant, the concentration before filtration, the concentration after filtration, and the percentage removed.
How long does a pitcher filter last?
The filter's efficiency begins to drop off significantly at 100 gallons. Because we drink water at different rates, you may reach the 100 gallon mark at different times. Here is our recommended timetable for replacing your filter:

Families: 2–3 months
Couples: 3–4 months
Individuals: 4–6 months

If you'd like to run the calculations yourself, it's pretty easy to figure out how long it will take you to filter 100 gallons of water. The top reservoir is ½ gallon when completely full. If you fill it twice each day, you'll filter 100 gallons in 100 days, or around 3 months.
What are the pitcher dimensions and how much water does it hold?
The pitcher body is 10.25" tall, 11.25" long, and 5" wide.
The bottom of the pitcher holds 80oz of water, or 10 cups. The top reservoir will hold 60oz of water, which is 7.5 cups or just under ½ gallon.
What material is used to make the pitcher?
The pitcher is made of a material called Tritan®. It is a medical-grade, premium plastic free of BPA (Bisphenol A), BPS (Bisphenol S), and EA (estrogenic activity). You can
learn more about Tritan here
.