Bottle Replacement Filter
Compatible with all Clearly Filtered filtered water bottles
Lasts for 25 gallons or 6 months (whichever comes sooner)
Breakthrough Affinity Filtration Technology destroys water toxins
Free Shipping
Lifetime Guarantee
Built in the USA
Affinity Filtration Technology
The filter in our water bottle is powered by the same Affinity Filtration Technology as our water pitcher filter, under-the-sink filter, and refrigerator filter, providing superior contaminant removal on the go.
Removes 220+ Contaminants
Our bottle filter, powered by Affinity Filtration Technology, removes 99.9% of fluoride, lead, mercury, microplastics, BPA, glyphosate, pesticides, and a total of 220+ potential tap water contaminants.
25-Gallon Filter Life
With a 25-gallon filter life, the Clearly Filtered 24-Ounce Tritan® Water Bottle provides clean and safe drinking water for 133 fill-ups. This means if you fill up twice a day, you'll need to replace your filter about every 2 months. Only fill up once a day? Replace every 4 months.
Published Performance Data
At Clearly Filtered, we believe in radical transparency, so we freely publish the results of our independent laboratory testing for your review. We think you'll find it pretty refreshing.
Customer Reviews
Write a Review
Ask a Question
Filter Reviews:
pitcher
water
quality
filter
company
bottle
tasting water
filters
tap water
water bottle
02/14/2020
Norma S.
United States
I recommend this product
Powerful little filter
The water tastes even better. No chloride smell.
02/11/2020
Anonymous
Norway
I recommend this product
Great
Great product. Arrived within a week to Norway.
02/10/2020
Jeffrey C.
United States
I recommend this product
Saves tons of money on the road
I love these filters because I love clean water and I'm always on the road. Instead of picking up plastic disposable water bottle from gas stations I just keep my clearly filtered bottle with me. I haven't bought a water bottle even once since I started using these filters. Also, I'm from Saginaw, Michigan. We have old pipes in much of the infrastructure and the water can taste really odd in some areas. These filters make all tap water taste clean and makes you want to drink MORE water.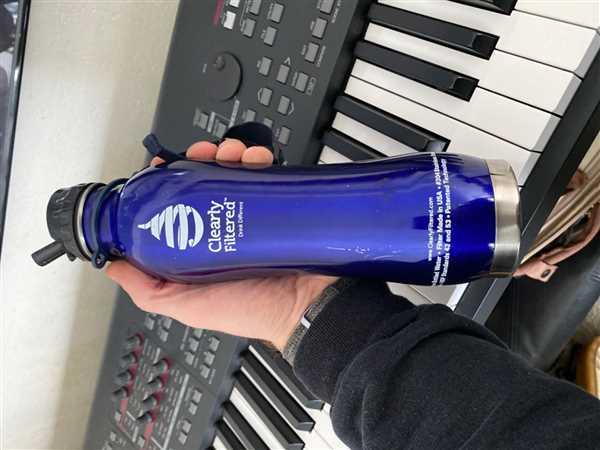 02/08/2020
Gary R.
United States
I recommend this product
Carry your foundational health in a bottle everyday
As an Integrative holistic mindbody therapist I know the importance of clean, healthy and hydrating water from a source you can trust. I've taken Clearly Filtered to places in So. America where one cant trust the purity of the water and never had a problem. Highly recommend Clearly Filtered.
02/03/2020
Anonymous
United States
I recommend this product
Safe Convenience
Love this little portable filter! I thought I would just use it when I travel instead of having to rely on bottled water but I have ended up using it constantly! Everywhere I go I have this with me and stay safely hydrated. The water tastes great no matter where it comes from.
Questions We Get Often
Does this filter fit any of the filtered bottles?
It sure does! We strive to make sure that our bottle filter is compatible with any of our water bottles—this not only includes our
Tritan
,
Glass
, and
Insulated Steel
bottles, but all our previous models as well.
How long does the bottle filter last?
The bottle filter lasts up to 25 gallons or 6 months (whichever comes first). This number may vary depending on how often it is used and the amount of contaminants in the water. Generally speaking, 25 gallons is about 145 fills in our
Tritan bottles
or 160 fills in our
glass
and
stainless steel
bottles.
Which contaminants does the bottle filter remove? (e.g., Fluoride, Lead, Chlorine)
Our filtration technology removes over 230 contaminants. We use an independent, EPA-certified lab to rigorously test our filters to NSF standards. Here are just a few of the more notorious contaminants this filter removes:
Fluoride: removed at a rate of up to 99.9%. It is difficult to remove once it's added into the tap water and typical carbon-block style filters don't have fluoride removal capabilities. For that reason we specially formulated our technology so fluoride removal is standard with every filter.
Glyphosate: The active ingredient in Roundup® weed killer. Our filters remove 99.9% of this highly controversial chemical.
Lead: Even though it's been widely banned due to its highly poisonous nature, lead pipes remain in use across all 50 states. Lead is harmful to human health even at low exposure levels and accumulates in the body over time. Removed at a rate of 99.9%.
Chlorine: While chlorine is effective at reducing the spread of infectious waterborne diseases, it reacts with naturally-occurring materials in water to form dangerous chemical byproducts that threaten your health. Removed at a rate of 99.9%.
We are all about transparency so we post our full test results on our
Test Results Page
. It shows the name of the particular contaminant, the concentration before filtration, the concentration after filtration, and the percentage removed.